Mad Teddy's web-pages


Mad Teddy's arrangement of W.A.Mozart's "Ave Verum Corpus"
Copyright © 1999 by Mad Teddy
Wolfgang Amadeus Mozart, 1756-1791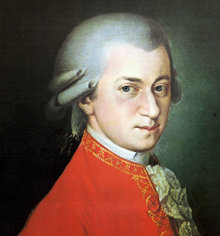 Click to read Wikipedia article
I'm not really a major fan of Mozart's music. I recognize the fact that this boy genius produced an enormous musical output during his short and turbulent life; but I can't get inspired by much of it. To my mind, there's far too much repetition of particular musical figures; a lot of his music sounds quite cliché to me. (I've gone on record as having described much of it as "variations on twiddly bits".) Futhermore, some of those tricks appear to have been lifted almost verbatim from the work of older composers, Joseph Haydn in particular. (I'm not a great fan of Haydn either, truth be told!)
Sacrilege? Heresy?? Try this for size: from the small amount of Salieri's music that I've heard, I find him to be a more interesting composer. So there!

HOWEVER
There are a few pieces by old Wolfgang Amadeus that I think are pretty special, notwithstanding what I've just said. I like several of his piano concertos; two in particular stand out: No.20, K.466; and No.21, K.467 (the second movement of which is well-known as the "Elvira Madigan" theme - how could anyone not love that, even if it has suffered from overexposure these last four decades because of that film?).
But the best Mozart piece of all, in my extremely humble opinion, is his Ave Verum Corpus. It has an interesting structure, including unusual modulations - the sort of thing which I find very appealing. It has "soul".
At matriculation college, I joined the college choir. We sang an English translation of this gorgeous piece at the local Competitions; I seem to recall that we got an Honourable Mention (which probably means we came fourth). But the tune has stuck in my head over the years, and I'm always delighted to hear it played on the radio.
My arrangement is below. I've used a violin ("String Ensemble 1", actually) for the soprano part; a flute for the alto; a viola ("String Ensemble 2") for the tenor; and a cello for the bass. (I sang the bass part in our college rendition of the piece.) For accompaniment, I used "Electric Guitar (jazz)".
I'm not altogether happy with the sound; it doesn't flow as smoothly as I'd like. I might have another go at it someday. But this will do for now.
Here's a link to the midi file, avcorpus.mid:
(To save this midi file to your hard disc, right-click here.)
If you'd like to see the musical notation with all the detail I included in the original, you can right-click to download the Noteworthy Composer file, avcorpus.nwc . If you go to Noteworthy's website, you can download their freeware Noteworthy Player, which will play the file for you.


Return to Various musical adventures sub-menu


My home page Preliminaries (Copyright, Safety)