Mad Teddy's web-pages


Mad Teddy's arrangement of Jacques Offenbach's "Barcarolle"
Copyright © 1997 by Mad Teddy
Jacques Offenbach, 1819-1880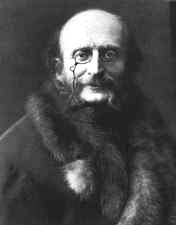 Click to read Wikipedia article
Just before we start
This bit inserted on Wednesday, 13th December, 2006
I've had a delightful email from a gentleman whose initials are J.L. in response to this page. I tried to reply, but my email bounced. Please, J.L., if you see this, could you try to contact me again, perhaps from another email address? Thanks!

UPDATE, 15th December, 2006
The email from J.L. (just mentioned) has spurred me on to find out more about an issue raised within this page. I'll put the details at the bottom of the page; but first, read on to find out what this is all about...


In the early 1960's, when I was a primary-school kid and my sister was in high school, Elvis Presley was still in the building and had a hit with his version of an old German folk-song, called "Wooden Heart". (Elvis actually sang some of the words in German - how very cultured!) My sister heard it on the radio and persuaded my parents to buy the single for her.
Update, 25th February, 2010
I've just discovered a very charming and amusing YouTube video of Elvis performing this song as part of a puppet show; click here and have a chuckle...
...and here's a link to another YouTube video which features the original version of the song to the backdrop of a rather good anime movie.
- - - - - - - - - -
The "B"-side of the record was a thing called "Tonight is So Right for Love". This was sung to a sort-of rocked-up version of a short piece from Offenbach's "Tales of Hoffman", entitled "Barcarolle". Listening to it now, all these years later, can make one cringe somewhat.
( Here's a YouTube video, if you're interested!

)
Further update, 2nd April, 2010
Further information about "Wooden Heart" and "Tonight is So Right for Love" have come to light. Both songs are from the 1960 movie "G.I. Blues", which starred Elvis and actress/dancer Juliet Prowse (who features in both those videos). Click here to read more.
For more details about "Wooden Heart", along with an English translation of the German lyrics, click here (also here.)
I've discovered another page which has the video of "Wooden Heart" embedded within it; click here. (The reason for taking the trouble to find this is that dear old YouTube, in its wisdom, has recently "upgraded" its website in such a way as to make it increasingly difficult for my old Windows 98 machine to access its material directly - not to mention the disastrous "new look" of their pages from anybody's perspective, not just those of us who refuse to pursue the never-ending "upgrade" bandwagon any more than we absolutely have to.

Why can't these people just leave well enough alone??! Update-within-an-update, 8th April, 2010: Over the last few days, I've taken the trouble to address this matter in a new page - click here if you'd like to see it.)
One last little snippet:
My sister informs me that my above remark about how our parents bought the record for her is incorrect. Instead, she saved up several weeks-worth of pocket money to buy it herself! So there!!!

- - - - - - - - - -
I'll come back to "Barcarolle" shortly; but first, please indulge me while I reminisce a little...
Around that time, one of the two commercial radio stations in our area (the one which catered basically to teenagers) featured a program on Sunday evenings called "The Golden Interlude". One of the station's announcers had an interest in classical music, and (presumably) had somehow managed to persuade the management to allow a weekly pause in the station's basically rock'n'roll format to present a bit of "culture".

The show featured basically what are sometimes termed "light classics". Tunes such as "Barcarolle", "Funiculi-Funicula", and "Humoresque" would be played; also snatches from "The Merry Widow" and "The Student Prince", and perhaps a waltz or two by Strauss or Lehar. You get the idea - a delightful olde-worlde feel, perfect for winding down a weekend.
My parents liked to have this on, and so I got to hear - and learned to appreciate - "classical music" at a fairly early age.
("The Golden Interlude" didn't survive for very long; ultimately, its presenter moved to the ABC and became the manager of the local operation for many years.)
The other local commercial station was aimed at a slightly older audience, playing basically "middle-of-the-road" material - although it did have a pretty gutsy Top 40 show for three hours on Saturday mornings. On weekday afternoons, this station ran a kids' show called "The Pal's Club", aimed essentially at school-age children. It featured stuff sent in by listeners (jokes and letters about family, pets etc.), and played requests. This was the era of songs like "Lipstick on Your Collar" and "Spanish Harlem" - the early 1960's, as I've mentioned, just before the arrival of much excitement for the younger generation, and consternation for their parents, caused by the onslaught of such outfits as the Beatles and the Rolling Stones.

While requests from older kids regularly included "Spanish Harlem" and such, smaller fry would ask for ditties like "The Little Engine that Could" or "Tubby the Tuba". There was one, however, which has stuck in my mind over these forty-something years, because it was so dorky.
It featured an adult male singer. Short snatches of a few "hack classics" were given the juvenile treatment; I can't remember exactly how many such tunes made it into the recording, but there were at least three which I recall:
1. "Funiculi, Funicula" (click here) - in which the following lyrics occurred in the "chorus" part of the verse:
"Choo-choo, choo-choo, goes my choo-choo train..."
2. "Humoresque" (you'll find a .mid of this tune here) - in which these words were sung in the last line:
"...my tiny little scooter on two wheels!"
3. "Barcarolle" (see my own links below) - which began like this:
"When I float my little toy boat, a sailor at sea am I..."
Presumably, the work was intended to have educational value. I can only imagine that some well-meaning person decided that the best way to get little kids interested in "proper" music - before their little minds were forever corrupted by the demon rock'n'roll, which was becoming ever more prevalent - was to write some suitably childish lyrics and set them to some more-or-less classical melodies! Dear oh dear...
So why am I telling you all this?
I'll come clean. My motives are ulterior; the fact is, I'd just love to get my hands on a copy of this recording, if such still exists - or at least a copy of all the lyrics (those given above are all I can remember!).
I've tried to contact the relevant radio station, but they don't deign to reply. I've also hunted all over the WWW, without success. It's very frustrating!
Please, if you have any information which may help me in this regard, would you contact me and let me know? I'd be forever grateful!

Just one other thing. There's a set of lyrics for "Humoresque" which has (I believe) been in existence since World Wat II. I just thought it might make your day to read them here if you've never seen them before:

Passengers will please refrain from flushing toilets while the train
Is in the station or while passing through;
Bums and hoboes underneath will get it in their eyes and teeth
And they'll dislike it just as much as you!
If you want to pass some water, please oblige and call the porter
Who'll place a vessel in the vestibule;
The porter frowns on urination while the train is in the station -
He's the one who cleans up after you!
If your efforts are in vain then simply break a window pane -
A simple trick that's used by quite a few;
But we encourage constipation while the train is in the station
To stop the porter being in the poo!


ANYWAY, enough of this nonsense, and back to the main subject of this page. I arranged "Barcarolle" for violin, flute, cello, and guitar, for our family group to play. Here's a link to the midi file, barcarol.mid:
(To save this midi file to your hard disc, right-click here.)
If you'd like to see the musical notation with all the detail I included in the original, you can right-click to download the Noteworthy Composer file, barcarol.nwc . If you go to Noteworthy's website, you can download their freeware Noteworthy Player, which will play the file for you.

UPDATE, 15th December, 2006 - continued from top of page
With renewed determination, this afternoon I have made some headway in my web-search for the kids' songs mentioned earlier. I have gleaned the following:
1. There were at least four such songs, as follows: "My Little Toy Boat"; "My Tiny Two Wheel Scooter"; "My Little Choo-Choo Train" (all mentioned above); and "The Hare and the Tortoise".
2. They were arranged by Jerry Sears, and sung by Bob Hannon accompanied by Jerry Sears and his orchestra, sometime in the mid-1940's (1945-1947?). So they're older than I thought - in fact, they pre-date me by several years!
3. It seems they may all have been released on the Majestic label (now defunct, apparently), together as "Vintage Songs For Little Folks", MMP 45's Records (?). (It's probable, given their vintage, that this may have been a later release - probably the one I heard on the radio in the 1960's - and that they were originally released on 78 rpm discs.)
Does that ring any bells for anyone? If so, please contact me and let me know!


Return to Various musical adventures sub-menu


My home page Preliminaries (Copyright, Safety)