Mad Teddy's web-pages


Classical Rag
Copyright © 1997 by Mad Teddy
Mozart with a touch of Scott Joplin - or vice versa? You decide...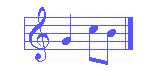 Those three notes, hummed casually by a junior member of our household in early 1997, provided the inspiration needed to allow me to create my first full-blown musical composition. After a single-bar introduction, the first two bars of the actual melody are as follows:

There are three parts: the melody is carried by a clarinet; a chord bass is handled by something called "Pad 1 (new age)"; and there is a simple accompanying part played on a vibraphone.
It's full of musical clichés, and now sounds a tad corny in retrospect. But, as with any new endeavour, you have to start somewhere - and I don't think it's all that bad for a first attempt.
Actually, I did try to soup it up a bit, by adding more parts (strings, mainly) and putting lots of extra repeats into it - but now, with the benefit of hindsight, I think it just became overblown and lost most of whatever charm it may have had. So what's presented here is essentially the original version (with a couple of small changes, just to tighten it up). Short 'n' sweet's probably best, in the final analysis!
Towards the end, there is a silly bit where the clarinet gets a bit excited and winds up playing a semitone sharper for four bars before getting control of itself, while the other two parts continue to trundle happily along in C major. (Just thought I'd better warn you - it's not a mistake; it's totally deliberate, and included as a gag.)
Here's a link to the midi file, clas_rag.mid:
(To save this midi file to your hard disc, right-click here.)
If you'd like to see the musical notation with all the detail I included in the original, you can right-click to download the Noteworthy Composer file, clas_rag.nwc . If you go to Noteworthy's website, you can download their freeware Noteworthy Player, which will play the file for you.


Return to Various musical adventures sub-menu


My home page Preliminaries (Copyright, Safety)