Mad Teddy's web-pages


Mad Teddy's arrangement of Franz Schubert's "Stšndchen"
Copyright © 1997 by Mad Teddy
Franz Schubert, 1797-1828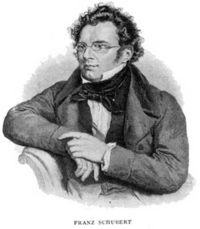 Click to read Wikipedia article
This lovely song has remained popular for nearly two centuries. Over the years, I've heard many versions of it; one that sticks in my mind is that by Nana Mouskouri.
I arranged this for our little family group to play, so originally there were basically four parts: violin, flute, cello, and guitar accompaniment. However, I decided to experiment by adding more parts to add "presence". The melody is now repeated and played by something called "Lead 8 (brass + lead)"; the guitar part is also doubled, with an ocarina as second voice; and I've added another bass, similar but not identical to that played by the cello, this one carried by "Pad 1 (new age)".
I think it works okay. I'm well aware that nothing anybody could ever do can improve on the piece per se, and I don't pretend that my arrangement does any such thing. But music, no matter how excellent, is always to be interpreted by arrangers and performers. I hope that I've done it justice; my intentions are only to treat it respectfully. If it can touch your heart, I've succeeded.
You may find that you need to reduce the volume a bit, depending on your music software. It seems that some of these voices played together can cause distortion. If necessary, adjust your player's volume setting and then turn your speakers up a whisker to compensate.
Here's a link to the midi file, standchn.mid:
(To save this midi file to your hard disc, right-click here.)
If you'd like to see the musical notation with all the detail I included in the original, you can right-click to download the Noteworthy Composer file, standchn.nwc . If you go to Noteworthy's website, you can download their freeware Noteworthy Player, which will play the file for you.


Return to Various musical adventures sub-menu


My home page Preliminaries (Copyright, Safety)